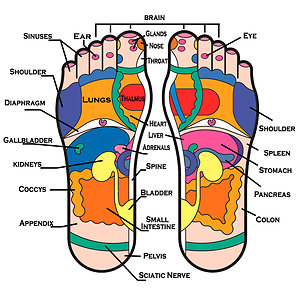 Frequently Asked Questions
WHAT IS REFLEXOLOGY?
Reflexology is an holistic therapy which applies pressure to specific points and areas on the feet (hands and ears). Although reflexology is not used to diagnose or cure health disorders, it can have a beneficial effect on general health, restoring balance and harmony in the body and releasing tension and anxiety and providing relaxation - helping the body to heal itself.
WHAT OTHER HEALTH CONDITIONS CAN BENEFIT FROM A REFLEXOLOGY TREATMENT?
• Headaches, migraines
• Asthma and sinusitis
• Cancer
• Cardiovascular issues
• Diabetes
• Kidney function
• Post-operative recovery
• Fibromyalgia
• PMS, infertility and pregnancy
HOW LONG DOES IT TAKE?
The treatment lasts for approximately 30 minutes. The first visit takes a little longer as the initial interview takes 10 or 15 minutes.
HOW MUCH DOES IT COST?
A treatment is £25. If you book six treatments together, you only pay for 5!
If I come to your workplace for the day, a treatment is £20.
I give special offers from time to time, such as half price sessions or taster sessions for £5.
* * * * * * * * * * * * * * * * * *
HOW DOES INDIAN HEAD MASSAGE WORK?
The treatment involves massage, shiatsu and acupressure techniques on upper back, shoulders, arms/hands, neck, scalp and face. This relaxes tense areas but, at the same time, helps to rebalance the energy, clearing any areas of negativity.
WHAT COULD A HEAD MASSAGE BRING ABOUT?
• General feeling of wellbeing, calmness and relaxation
• Dispersal of toxins from tense, knotted muscles
• Stimulation and improvement of circulatory and lymphatic systems
• Improvement of joint mobility
• Higher levels of alertness and concentration
WHAT HEALTH CONDITIONS CAN BE HELPED OR ALLEVIATED BY A HEAD MASSAGE?
• Tension headaches
• Eyestrain / eye problems
• Tinnitus and other ear problems
• Insomnia
• Neck and shoulder stiffness
• Sinusitis and congestion
• Hair loss/thinning
• Scalp tension
• Mental tiredness/anxiety/stress
HOW LONG DOES IT TAKE?
After the initial 10 - 15 minute consultation on the first visit, a treatment lasts either 15 or 30 minutes.
HOW MUCH DOES IT COST?
If I come into your workplace for the day, it is £10 for a 15 minute session, £20 for 30 minutes.