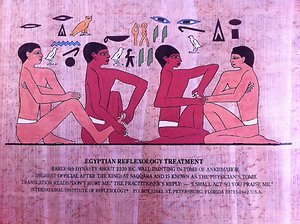 It is not a new therapy. In ancient historic documents from China and Egypt there is evidence that foot and hand massage was used. There are drawings in the tombs of the Pharaohs showing a king receiving hand and foot massage.
It is an holistic complementary therapy which involves massaging or pressing on reflex points in the feet that correspond to the organs of the body (see the chart below). In this way blockages or imbalances in the body can be removed. There are approximately 7,000 nerve endings in the feet so your nervous system is also stimulated during a treatment. The result is that you restore your balance and relax so that your body can heal itself!
APART FROM RELAXATION AND GENERAL WELLBEING, WHAT ELSE CAN REFLEXOLOGY DO FOR YOU?
This relaxing therapy can rid the body of toxins, improve circulation and digestion, balance hormones, calm the mind and relieve stress and anxiety, combat low energy, relieve migraines and headaches, help with sleep disorders and low immunity, and much more!
Reflexologists cannot claim to diagnose or cure, but if they detect a problem in some area of the body (it may be painful, feel 'crunchy' or lumpy) e.g. the kidneys, they can recommend that you take some medical advice.
Reflexology was first introduced to the United States in 1913 and to the UK in the 1930's. It's very popular now in Australia and in Scandinavian countries and is growing in popularity in many parts of Europe.
The reactions to the treatment are very individual and on several different levels, but most people enjoy it and find it very relaxing .............. why not give it a try!
A typical session of Reflexology would start with a short interview for me to take down some details about you. For example, personal details, current state of health, any previous health problems, lifestyle information - diet, exercise, sleep patterns, stress and energy levels. This helps me to gain an holistic picture of you and enables me to give more attention to any problem areas during a treatment. You would lie on a couch or in a special chair which elevates your feet, and then you just lie back and enjoy it - the relaxing music, the aromatherapy candle and the reflexology techniques of the foot massage - all leading to a wonderful state of relaxation in a mere 30 minutes.