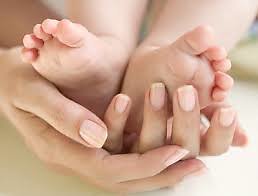 THE CHILDREN'S REFLEXOLOGY PROGRAMME
This unique programme is offered to parents and carers as a simple course of four, one-hour sessions, spread over four weeks. It is designed to empower them to be able to offer their children the benefits of reflexology in a way that is fun, relaxing and supports natural bonding. It can be given at home as part of your bedtime routine or at any time of the day or night if your child is distressed or in pain .
Reflexology is a non-invasive complementary therapy that can help with many common ailments of childhood - colic, teething, reflux, constipation, pre- and post-immunisation, tantrums, migraine, coughs and colds - when the reflex points in the feet are manipulated it helps to ease problems within that area of the body as well as supporting the body's own ability to heal itself.
The course is based on a specially created book, The Mouse's House, which engages children through the use of animals, rhymes and the story. and helps you to learn and remember the reflexology. Also there are mini booklets which show you how to treat specific conditions of childhood as mentioned above. This 'Parent Pack' is purchased for you when you book onto the course and is charged at £15. The cost of the course is £90 per session. It depends on the number of participants - up to 6 little ones. That would be £15 each per session, 3 little ones would be £30 each per session, and so on.
During lockdown, I have been running the course as three x 35 minute Zoom sessions with one family at a time, with a live visit later when we are allowed to treat again. The cost of this is £20 per Zoom session and £40 for the longer home visit later. Please have a look in the Testimonial section of my website and contact me if you are interested.

If you are interested in taking part in a course, ideally with a group of friends whose babies, toddlers or children are of a similar age group, please contact me. Details on the home page or click on the advertisement above.